Posted Thu Mar 20th by Monty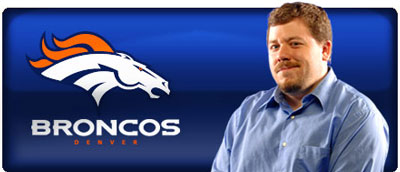 First it was the rumors surrounding Domonique Foxworth on the trade block… then it was the abrupt firing of General Manager Ted Sundquist. Now DenverBroncos.com Feature Editor and BroncosTV reporter Andrew Mason has been unceremoniously canned. As one of our commenters pointed out, there is an eerie connection between these three gentlemen: all 3 ran a blog over at DenverBroncos.com.
Mason's firing in particular I will never understand. He did an absolutely outstanding job with the main site, his blog, and BroncosTV. Honestly, I'm really going to miss his stuff and the correspondence we've had in the past about Broncos news and blogging. [Mason's Morsels]
In the past, I've always applauded the Broncos for their embracing position of blogging in general. Andrew Mason was particularly gracious to fan blogs like ours, even linking to sites like BroncoTalk and Mile High Report in the Mason's Morsels blogroll. Is this a sign that they're moving away from that online paradigm? Will the next main editor for DenverBroncos.com have a blog at all?
We all know the real culprits behind each decision – player moves are always tricky; Sundquist and Shanahan's professional relationship (or lack thereof); and the state of the Broncos financially. Foxworth's blog will continue, and Sundquist's hasn't updated since December, but I'll definitely miss Mason and all of his interesting tidbits, especially during training camp.
A warm Mile High Salute to you, Mr. Mason. Thanks for keeping Broncos fans entertained and informed through the past few seasons.