Posted Wed Mar 12th by Monty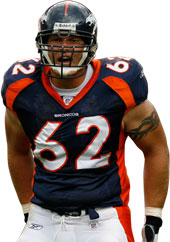 The Houston Texans are planning to visit with Broncos C/G Chris Myers Thursday, the Houston Chronicle reports. Myers is a 3rd year restricted free agent, meaning the Broncos have the right to match any contract offer. They would have one week to match, or elect to let Myers go and receive a sixth-round draft pick as compensation.
Myers was given the low tender of $975,000 earlier in the offseason, a risky move if the reports that the Broncos are high on Myers are true. They could have elected to tender him at a higher offer (paying him more money), which would have guaranteed the Broncos a higher round draft pick as compensation.
Myers, 26, started all 16 games last season for the Broncos. He started at LG for the first five games then moved to C after Tom Nalen was placed on Injured Reserve.
I wasn't a big Myers fan (at all) as the season began, but I felt like he found his footing (pun intended) as the year went along. I'd hate to see him go. Hopefully the friendly relationship between Texans coach Gary Kubiak and Mike Shanahan will prevent any type of poison pill clause from rearing its ugly head.
Looks like a developing story — we'll keep you posted.