Posted Fri Feb 29th by Monty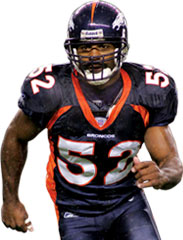 The Broncos seem to be cleaning house today. Less than an hour after the news broke that Javon Walker was released, CBS4 Denver's Gary Miller has been informed that outside linebacker Ian Gold has also been let go. Full Story.
The move opens up D.J. Williams to move to the weak side, his preferred spot, and one in which he hasn't filled since his outstanding rookie year in 2004.
Gold was due a roster bonus in the coming days in excess of $1 million.  He will likely be a hot commodity on the free agent market.