Posted Fri Feb 29th by Monty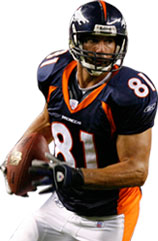 The Denver Broncos signed tight end Nate Jackson to a two-year deal, the Denver Post reports. Jackson's contract is worth $2 million, including some escalators.
Jackson started to come on in 2007 before he suffered a season-ending groin injury in Week 5. He caught his first career touchdown in Week 3 against Jacksonville. Jackson followed that up with a 24-yard grab in Week 4 and a 9-yard catch in Week 5 before suffering the injury. He ended 2007 with 3 catches for 34 yards (11.3 average) and a touchdown.
In his 4 previous seasons with Denver, his season high came in 2004, where he snagged 8 balls for 73 yards (9.1 average) and no touchdowns.
Jackson is an injury waiting to happen.  In five years with the Broncos, he has never seen the field for all 16 regular season games (often due to injury).  I'm really surprised he got such a large deal.  Meanwhile, Domonique Foxworth, Karl Paymah, Hamza Abdullah, and Chris Myers all got low tenders at $927,000?  Let's pay Jackson $1 mil to site the bench while we ask Foxy and Myers to play multiple positions on the field, shall we?
I don't mind Jackson being on the team; nothing against the guy, I wish he would stay healthy so he could have more of an impact… but I hate this deal.  Overpaid, and then some.