Posted Fri Feb 29th by Monty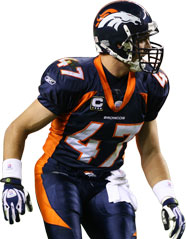 After sitting on the fence for months, it appears that 9-time Pro Bowl safety John Lynch is leaning toward returning for another year in the NFL. The Broncos, however, want the team captain to take a paycut in order to return to the squad next season.
Talks between the parties heated up Wednesday afternoon and all day Thursday, ultimately leading to a potential situation where Lynch could be cut if he doesn't agree to the restructure. Lynch is due over $1 million in bonuses on March 4th on top of $2 million in base salary for 2008. Among the teams Lynch would consider visiting is his home town and AFC West rival San Diego Chargers.
Could Elam, Lynch be gone? [Denver Post]