Posted Wed Jan 30th by Monty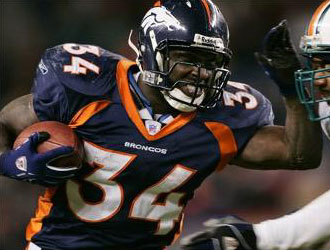 Droughns was the Broncos' leading rusher in 2004.
In 1997, the Denver Broncos touched immortality. 10 years later, 3 players who once called themselves Broncos find themselves playing for a chance to share that dream.
To do it, they'll have to pull off the biggest upset in NFL history.
For WR Domenik Hixon, RB Reuben Droughns, and CB Jeff Shoate, the road to the Super Bowl didn't end on the same road it started. Each player spent the early part of their respective careers with the Denver Broncos, where expectations are always high, and the goal of reaching a Super Bowl seemed possible each year. Each player now finds himself a member of the New York Giants, whose surprising hot streak has earned them a trip to Glendale, AZ.
One player, Hixon, has been on a particularly emotional journey. As the media gravitated toward Glendale and the frenzy that is Super Bowl week, Hixon talked about his fateful hit in Week 1 on Kevin Everett that changed both their lives.
"I was hesitant after it happened," said Hixon, who told Sirius NFL Radio that he had nightmares for days after the hit took place. "I thought about it a lot. It might have stayed in my head and hurt me enough to get cut. Everything happens for a reason."

Hixon met Everett when the Giants played the Bills just over one month ago. He told reporters that meeting Kevin inspired him, and that the two are now good friends.
"I just prayed through the whole thing, and it got better," Hixon said. "Kevin is doing great and I'm in the Super Bowl. It couldn't be better."
Hixon returned a kickoff 74 yards for a touchdown when the Giants played the Patriots in Week 17.
Reuben Droughns led the Giants with 6 rushing touchdowns in the regular season this year, his first with New York. Droughns spent the past two seasons with the Cleveland Browns, where he showed that he could have success outside of the Denver system in 2005 before struggling somewhat in 2006.
The year before, he was the leading rusher for the Denver Broncos, gaining a career-high 1,240 yards on the ground.
"I didn't feel last week, that I was really in the Super Bowl," Droughns said during a playful interview on Media Day. "With this atmosphere, I'm know I'm here."
With the emergence of rookie Ahmad Bradshaw and the presence of Brandon Jacobs, Droughns' role has been limited to special teams work during the Giants' run. But he doesn't mind.
"It's been kind of a roller coaster," Droughns said. "At the same time, it's been entertaining."
Finally, Jeff Shoate's journey to Glendale involved a little bit of luck. After being released by the Broncos late in the season and short stint in Baltimore, Shoate was added to the Giants' practice squad a few weeks ago.
"This is my first time in this," he told reporters during Media Day.  "You see it on TV, but you never expect it to be like this. Crazy, just crazy. I guess that's why we all brought cameras, you don't want to forget any of it because nobody would believe it anyway."
The Broncos drafted Shoate in 2004, where he played in 7 games. He spent the next two years on injured reserve and on the Broncos' practice squad, and he was ultimately cut by the Broncos late in the 2007 season.
Each one of these players found a different path to the Super Bowl; each one had a stop in Denver along the way. Who knows if their paths will cross with the Broncos again in the future, but for now, these athletes are enjoying the moment, and preparing to challenge for a Super Bowl title.