Posted Wed Jan 16th by Monty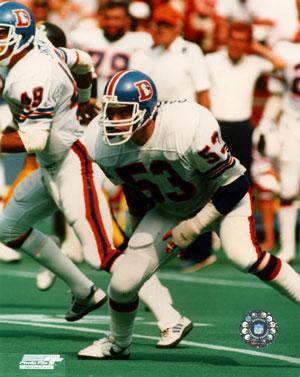 Gradishar is a finalist again
17 finalists have been named for consideration for the 2008 Induction Class of the Pro Football Hall of Fame. Among them are Broncos linebacker Randy Gradishar and offensive tackle Gary Zimmerman.
Left behind is running back Terrell Davis.
Zimmerman was a finalist last year and four of the last five, and Gradishar has been a finalist several times as well. To date only one Bronco has been named to Canton, a grave injustice that is slowly garnering attention.
Gradishar was the leader of the vaunted Orange Crush defense and gained over 2,000 tackles in 10 seasons (yes, averaging over 200 tackles per season). He led the Broncos to their first Super Bowl appearance. Read more about Gradishar here, and why he belongs in the Hall of Fame.
Zimmerman joined the Broncos through trade in 1993 and helped some of the best offenses in the NFL during his career. John Elway made a personal trip of over 300 miles to beg the big guy to return, and won a Super Bowl the Broncos did. He's definitely due. Read more about Zimmerman here, and why he belongs in the Hall of Fame.
With any luck John Elway won't be alone in the Hall anymore.