Posted Tue Jan 8th by Monty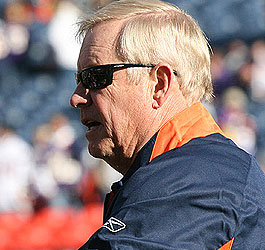 Photo Courtesy
Jim Bates has opted to leave the Denver Broncos after one season as the Assistant Head Coach/Defense.
The Rocky Mountain News reports that Bates was facing reassignment within the coaching staff. The report also indicates that current Defensive Coordinator/Secondary Bob Slowik will now oversee the entire defense.
"I'm very thankful for the opportunity and very saddened that things did not work out. I had the opportunity to stay. Mike has been very fair with me, and the final decision, for the Broncos and for me, was to step aside."
So, the Jim Bates era is now over in Denver. I can't say that I'm thrilled – with change comes adjustment. Hopefully this year it's a positive adjustment – one that sees the Broncos play better under Slowik than they did in Bates' complicated system.
After ranking 30th in run defense and 28th in points allowed, his one-year stint with the Broncos is surely something Bates would like to leave off his resume should he continue coaching in the future.
Best of luck, Jim, in your future endeavors.