Posted Thu Jan 3rd by Monty
With the long offseason ahead, BroncoTalk begins its look forward to the 2008 season by looking at the current state of the Broncos roster, position by position. We'll take a look at the players signed through 2008, and give you our opinion on the need this position represents for the Broncos this offseason. Today we're looking at defensive end. Enjoy.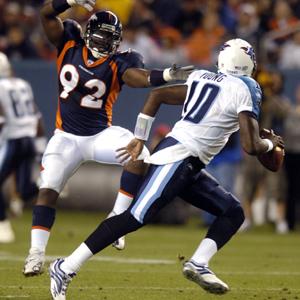 After addressing the defensive end position three times in the past two drafts, the Broncos are hoping their young players can make more of an impact in the 2008 season and beyond. While Elvis Dumervil is already earning his paycheck (and likely a bigger one), Jarvis Moss and Tim Crowder will need to show they can stay healthy to be productive in their second NFL seasons. Outside of these three, the Broncos' situation looks thin at best. I'll also take a look at potential free agents at the position, and address the rumors regarding Jason Taylor out of Miami.
Elvis Dumervil

Contract Status: Signed through 2009
Elvis Dumervil is far and away the most talented player on the Broncos defensive line, but he's a pure pass rushing specialist whose small size makes him vulnerable against the running game. He started all year for the Broncos after Ebenezer Ekuban tore his Achilles in the preseason, registering 12.5 sacks.
He's entering the third year in a four-year deal, making him a high priority for an extension this offseason.
In 2007: Started all year. Dumervil's 12.5 sacks (6th best in NFL) were complemented by 4 forced fumbles (9th best in NFL), and he was consistently on the receiving end of double teams by opposing offensive linemen. He should have been elected to a Pro Bowl this season.
In 2008: I think the Broncos are better off with Dumervil as a pass rushing specialist, meaning he may lose his starting job in lieu of this designation.
Jarvis Moss

Contract Status: Signed through 2011
Our first round pick this year suffered a broken fibula right in the middle of the season. These can be nasty injuries, and some reports indicate that Moss will have to rehab fiercely to play at his best level next year. He has the ideal size, speed, and strength you're looking for in an every-down defensive lineman, and has the physical toolset to be considered one of those proverbial "freaks of nature" every defense needs.
In 2007: It was beginning to look more and more that Moss was going to steal John Engelberger's starting job when Moss went down with his leg injury in practice. He only played 6 games in 2007, registering one sack in limited play time.
In 2008: I have Moss speculatively penciled in as a starter for the Broncos next year. Again, this all depends on how well and quickly he rehabs from his broken fibula. If he's healthy, at the least he'll have the opportunity to compete for the starting job.
Tim Crowder

Contract Status: Signed through 2010
The man I call T-Crow. Crowder had an up and down year in his first NFL season, showing flashes at some points and clearly struggling in others. Can we expect more from a first year defensive lineman? I'm very excited about this prospect in the years to come.

In 2007: After missing all of the preseason and the first three weeks of the regular season with an ankle injury, Crowder finally saw action against the Colts in Week 4 (remember, when the Broncos went crazy with their defensive line, sometimes lining up 4 ends against Peyton Manning). He was mostly quiet in very limited action, although he did return a crucial fumble for a touchdown against the Steelers in Week 7. T-Crow came on strong late in the year, register four sacks in a three-week period (Weeks 10-12, @KC, TEN, @CHI), and saw more and more game time as the year progressed.
In 2008: I have Crowder penciled in as the other starter for the Broncos, opposite Moss.
John Engelberger

Contract Status: Signed through 2008
Heading into the 2007 offseason, it looked like John Engelberger would be on the outside looking in. He had fallen deep down the depth chart, and with the drafting of Moss and Crowder figured to be the odd man out. Instead, Ekuban went down, Kenard Lang was released, and Engelberger was elevated to a starting role. He's heading into his contract year at the age of 31 and will have something to prove if he wants to stay in Denver longterm. He won't shock you with his talent – he's a blue collar worker who puts in good effort, and that will always earn him a place on my team.
In 2007: Started 16 games, fighting through various minor injuries as the season unfolded (he was repeatedly found on the injury report, always listed as probable). He registered one sack and one forced fumble.
In 2008: It's no guarantee he will be with the Broncos in 08, but I expect he will. He provides valuable depth as an every down defensive end, but it is unlikely he will start again.
Ebenezer Ekuban

Contract Status: Unrestricted Free Agent
One of the most underrated injuries the Broncos faced this offseason was Ebenezer Ekuban's season-ending Achilles rupture in the preseason. Suddenly Dumervil was thrust forward as a starter, and our run defense took a significant hit. Ekuban is an unrestricted free agent, and the Broncos may let him test the market before trying to resign him. With injury and age concerns (he's 31), he may not return to his 2006 form, but it would be worthwhile to sign him and see how he performs in training camp.
In 2007: Injured Reserve all year.
In 2008: He can sign with anyone come March, but I expect the Broncos to reel him back in after he tests the market. At his age his best days may be behind him, but I think he's still got a good amount left in the tank.
Josh Mallard

Contract Status: Unknown Signed through 2008
Josh Mallard is the rare diamond in the rough, a clear example of another's trash being our treasure. The Broncos picked him up off the streets midseason and Mallard immediately made an impact. Playing both defensive tackle and defensive end, Mallard either showed his merit or showed how weak our defensive line was at the time. Or maybe a little of both.
In 2007: He played the last eight games for the Broncos, registering his 3.5 sacks in the last four games. In his first game as a Bronco, having just been picked up off the street, Mallard played extensively, and would continue to make his mark in the games to follow.
In 2008: Details for his contract were not disclosed, but I get the feeling it was a deal just to finish the season. He's earned himself a new one, and will add valuable depth to both defensive end and defensive tackle next year for Denver.
Kenny Peterson

Contract Status: Unknown Signed through 2008
After serving a four-game suspension, Peterson was released by the Broncos in early October. He found himself back on the squad a short time later and played a limited role in the Broncos defensive end rotation.
In 2007: His topsy-turvy year saw him in, suspended, out, then back in. He registered one sack along the way.
In 2008: His status is up in the air. I'm guessing he won't be a Bronco next year.
Others on the roster
None of these players saw the field in 2007 – some were signed this week to future contracts, others (Carlos Hall) never reported to training camp, and some were game day inactives:
Paul Carrington, Larry Birdine, Nic Clemons, Julian Jenkins, Carlos Hall.
Looking at Lower Elevations
Who else could help us, outside of Denver? Let's take a peek.
Jason Taylor, Miami Dolphins – The RMN posted an opinion piece saying that the Broncos should pursue Taylor in a trade. At the time I disagreed, but after a little more thought I have to admit the idea excites me. The prospects of Moss and Crowder excite me, but they're just that – prospects. Jason Taylor is a sure thing, at least for a few more years, and the type of every down defensive lineman the Broncos really need.
We have much greater needs elsewhere, to be certain, but creating a dominating pass rush will easily earn us more wins next year. A combination of Taylor, Dumervil, Moss, and Crowder has my mouth watering. It's the type of move that elevates the mentality from "good enough" to "championship" – with the guys on our roster right now, I feel like we're good enough, and if the young guys can step up we might be great. But adding Taylor to the mix is a step above that, unquestionably, and a step towards an AFC West title.
Jared Allen, Kansas City Chiefs – Wouldn't it be great to steal The Mullet from Kansas City? He may not be a fan favorite in Denver, and his off-field issues are certainly a concern, but I was calling for Allen to be a Bronco this past offseason, and would still love to see him in orange and blue. In a great interview on Sirius radio last month, Allen even hinted that seeing a lack of effort from his current team has him considering looking at greener pastures elsewhere (although he quickly went political and talked how he loved the Chiefs organization and would love to stick around). The Chiefs will do everything they can to resign him, but if he hits the market he will be a high priority for many teams, and the Broncos should at least drop feelers.
Terrell Suggs, Baltimore Ravens – The Ravens' cap situation is horrendous, and Suggs will almost certainly hit the market. Another young guy at 25, Suggs was always around the double-digit sack total until his disappointing season this year with 5. He's definitely worth a look.
Justin Smith, Cincinnati Bengals – Smith is a blue collar worker with talent to boot. He doesn't register as many sacks as the "elite" defensive ends, but he's as solid as any.
The Bottom Line
Signed Through 2008: At least 6
Offseason Priority: Mid.