Posted Wed Nov 28th by Monty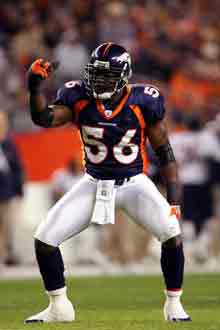 I haven't always been this big of a "behind the scenes" Broncos fan. I knew all of the players, watched every game, etc., but I didn't follow free agency or the draft with the same amount of fervor I do now.
I say this is a disclaimer in case this is old news, but I came across this snippet in Ted Sundquist's blog that caught my eye. After the obligatory Google search came across nothing, I figured I'd point it out.
Apparently linebacker Al Wilson was ready to be released by the Broncos as early as 2004, mainly for financial reasons. As both Ian Gold and Wilson were approaching contract deadlines, the Broncos were prepared to release their Pro Bowl middle linebacker and replace him with 2003 2nd round selection Terry Pierce.
With both Ian Gold and Al Wilson approaching free agency, it was felt that Wilson would be the more difficult player to resign to a contract extension. Pierce was selected with the thought of moving him inside, Gold would be resigned to remain on the outside/weakside. Gold went down that season [2003] with an ACL and the decision was then made to retain Wilson. Pierce was tried on the outside, but his more natural play had always come from the inside. He never quite caught on to the perimeter of the defense and was eventually let go.
Source: GM Ted Sundquist's Blog
Of course, Pierce never panned out and the Broncos drafted D.J. Williams in the first round of 2004.