Posted Mon Nov 12th by Monty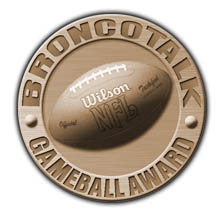 Your final score is Broncos 27, Chiefs 11. Great bounce back win – let's get a winning streak going, eh? It's game ball time, who ya got!
Earl – Selvin Young. They said that as a backup at Texas, Young had a severe case of fumblitis. And indeed, the ball sure came loose a lot as he was going to the ground, but he also kept getting it back; or the ball came loose after he was already down. That it a little worrisome. On the other hand, he runs hard, he hits the hole, and he's fast! He looks, to me, like Tatum Bell if only Tatum Bell had been who we wanted him to be. Breaking a hundred yards on his first start is good, but doing it against the Chiefs in Arrowhead coached by Herm Edwards is astounding.
I need to give an honorable game ball to Elvis Dumervil. Seriously. Our d-line seems to have only one guy who can seriously get on a pass rush right now, and he's the guy. I sincerely hope our rookies will be able to pick it up so that when Dumervil is doubled up, one of them will start doing more, but even so. He has 8 sacks on the season in 9 games!  That puts him on pace for 14 if he keeps it up, and here I thought he was just being a young player with a chip on his shoulder when he predicted a 15 sack season. While Young gets the nod for me for this game, Dumervil can't go without mention.
Jonathan – I'd have to say that my game ball would go to the linebacker unit. As a group, they had the best game of the season in my opinion. D.J. Williams was solid, Nate Webster made a great heads-up play where he scored a TD on the forced fumble and Ian Gold actually had a fantastic game with several speedy moves in coverage, a couple of powerful hits and a sack. Together the unit racked up 17.5 tackles – which is exactly what the Jim Bates Defense needs from this position.
Kyle – Excellent choices, guys. Young was definitely our MVP; Dumervil had another outstanding game (besides the three last-drive penalties); the linebackers definitely stepped it up a notch. I almost went with Cutler – he showed tremendous courage under fire, although he did look inaccurate at times. He always seems to get a game ball, though, and I gotta spread the love. This may be a total homer pick here, but I've gotta go with my boy T-Crow. He registered his first two sacks of the season, one of which ended the Chiefs' desperate comeback hopes. Talk about stepping up in the absence of Jarvis Moss and Simeon Rice. Both Chiefs QBs were hassled all game long, and while Dumervil definitely got the better of them more than once, it was thrilling to see our rookie make an impact on big plays, too.