Posted Wed Oct 10th by Monty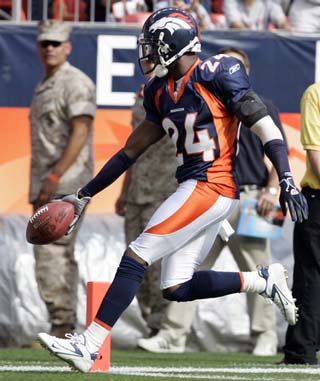 For the veterans on this team, the frustration of losing like we have lately permeates past the game field and into the locker room and practice field. You can see it in someone like John Lynch during his press interviews – he's a little less happy. He smiles less. He has less praise for his teammates. He's the consummate professional, but nobody likes to lose the way we have, and you get the feeling he's just tired of their present situation. Some think it might be the defensive players not "buying into" new defense coach's Jim Bates' system. I don't know anything about that, but I'm getting this nagging feeling that one particular superstar shutdown corner is definitely getting tired of what he is being asked to do this season. Really, who can blame him?
Champ Bailey has never had a problem helping out in run support. He is beyond a solid tackler – if the opponent sees #24 heading his way, 9 times out of 10 he knows he is going to get wrapped up. Year after year, statistically he shows up in the tackle column about twice as often as any other cornerback on the team. It's remarkable.
With our special teams and run defense especially pour this season, the coaches have given Champ an increased role in both fronts, and one gets the feeling that Bailey is tired of playing triple-duty. In special teams, Champ is out there on the coverage units. The worst part about this is that game after game, he's the one making the tackles. 9 other guys and the punter/kicker could be making that play, but Champ finds a way to get to the returner each game.
In run defense, you can see Bailey having to spy on the runners. He's playing off his receiver, watching the opponent's backfield instead of focusing on shutting down his man. The result – he's been getting beat lately. Whether it's Dallas Clark moving the chains in a huge third down in the second half in Indianapolis, or Antonio Gates busting a short pass for a big gain vs. the Chargers last week, Bailey simply can't do everything. As good as he is, he needs the front seven to step up and stop a runner so he can focus on shutting down the passing game.
Which means he needs the coaches to stop asking him to do so much.
We did better at stopping the run for the most part last week (don't chew my head off for that comment – we were actually holding runners to 2-4 yards each run, rather than 7-12 every single play, we just still blew it and allowed the big runs). In return we had our worst game of pass defense thus far, allowing 270 yards through the air (the first opponent to go over 200). The corners were asked to sneak up on the line of scrimmage even more than usual, and while the Chargers didn't exactly spread the ball around they still beat us through the passing game consistently.
Our best game defensively this season was Week 1 against Buffalo. While our run defense looked like a potential weakness, we didn't get burned like we have since then. Week after week since, we've allowed more points and more yards without fail. Our defense is getting worse as we ask our cornerbacks to do more.
This is of course my personal opinion, but I think we have a better defense if we just let our cornerback tandem worry about their receivers and only focus on the running back if he's heading right for them. Let Bailey and Bly worry about the opponent's receivers. Shut down the passing game. Stack 8 in the box with Lynch up front. It's our nature to still allow a good amount of yardage that way, but at least we won't be getting beat both ways. With a little luck, and perhaps some continuity among the front seven (perhaps stop deactivating seemingly random players each week?), we'll figure out this run defense just in time to go on a decent win streak and maybe, just maybe, make a push for a Wild Card or even the weak AFC West.
If we keep asking Champ to do it all, he's going to get tired, injured (oh, too late for that), and just plain disillusioned with this team. And the thought of this defense without Champ Bailey is something I'd rather not think about right now.