Posted Mon Aug 13th by Monty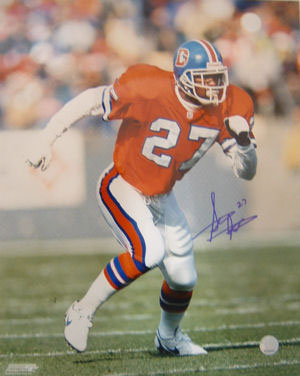 Some fans believe Atwater's #27 deserves to be the 4th retired Broncos jersey. Photo Courtesy
Part 5 of 6
Stephen Dennis Atwater was born on October 28, 1966 in Chicago, Illinois. In his youth, Atwater found much success as a wishbone formation quarterback, where he was recruited by the University of Arkansas. At Arkansas, Atwater was moved to safety and excelled again. He earned All-Southwest honors three times, and All-American honors twice. His size and speed made him an ideal fit for the National Football League, where he would be asked to bring his hard hits to the pros.
After a fantastic Senior Bowl performance (2 interceptions), Atwater was drafted by the Denver Broncos in 1989 with the 20th Overall selection. The Broncos rush defense immediately improved under Atwater, from 27th in 1988 to 7th in 1989. Steve finished second in Defensive Rookie of the Year voting.
This was the start of what would become an incredibly successful career for Atwater as a Denver Bronco. In 10 years with the team, Atwater was elected to 8 Pro Bowls. These don't begin to describe Atwater's contributions as a player – a career-long team captain, Atwater led the team on and off the field. His hard hits are the thing of legend – one knows that Chiefs RB Christian Okoye will never forget the hit he took on Monday Night Football, where he started at the 14 yard line and ended up at the 16 of the Denver red zone, flat on his butt.
Through all of this, Atwater remained one of the biggest fan favorites on the team. Until the offensive firepower we found in our Championship years with Shannon Sharpe, Terrell Davis and Rod Smith, Atwater was the 2nd most popular member of the team behind John Elway himself. In Super Bowl XXXII, Atwater would have been inarguably the MVP if it hadn't been for Davis' 3 rushing touchdowns, an NFL record. He tallied six total tackles, a sack, two passes defensed and a forced fumble. He was responsible for critical stops in the 4th quarter, including a batted pass on a crucial 3rd down with the score tied 24-24, and a 3rd down stop in the final minutes that set up the final Packers offensive play in the game.
After another year in Denver (in a downgraded role) and another championship, Atwater finished his career as a New York Jet. The Broncos re-signed Atwater with a now-common ceremonious contract so he could retire a Bronco following the 1999 season. He was elected to the All-1990's team.
Get Him in the Hall
Steve Atwater has to fight two Hall of Fame obstacles before he will find himself in Canton: he's a Denver Bronco, and he's a safety. Neither are very commonly found in the Hall.
When looking at safeties in the Hall of Fame, only nine members are so honored in the history of the NFL. When you consider that only one of these men played beyond 1980, Ronnie Lott, and he even played cornerback as well… it becomes clear that Atwater's quest into Canton may be more difficult than the others on my list.
But it needs to be stated with the heaviest degree of emphasis that Atwater did not play like a typical safety in the National Football League. Repeatedly asked to play close the line of scrimmage, Atwater did not have the opportunities for interceptions that all of the other Hall of Fame safeties enjoyed. Where most of the other currently enshrined safeties have at least 40 career interceptions, Atwater only tallied 24. While tackles were not counted as an official statistic for years, there is no doubt that Atwater's numbers excelled many of those already enshrined, if not all of them, including Ronnie Lott.
Amassing 1356 tackles in 11 years, 9 of them truly productive, is extremely difficult for a safety. Consider that it took Lott 11 years to break the 1000 tackle mark and Atwater's number comes into focus. He is considered one of the all-time biggest hitters among defensive backs in NFL history, along with Lott and Jack Tatum. He belongs to be honored in Canton.
Steve Atwater's impact on the playing field was felt immediately, as the 1988 Broncos' 27th ranked rush defense improved to 7th in the league the year they drafted Atwater. He helped lead the franchise to its fourth Super Bowl in his rookie year, and went on to have a prolific career as a safety thereafter. Earning eight Pro Bowls in eleven years, Atwater was the physical and moral leader of a defense that struck fear into opponents' hearts every time #27 graced the field. He is responsible for some of the most important defensive plays in Broncos history, as his 3rd down stops in the fourth quarter of Super Bowl XXXII helped the team clinch its first championship. Safeties and Broncos are both rare breeds in the Hall of Fame – I hope the Committee can wrong two rights at once by inducting Steve Atwater, whose hard hits are the things of legend, into Canton this year.