Posted Sun Apr 29th by Monty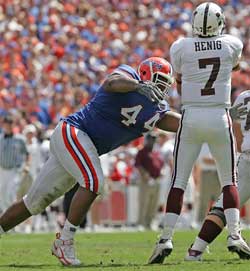 Shanahan went line again, but this one is a bit more interesting. Photo Courtesy
Reminding most Broncos fans of Maurice Clarett, the selection of Florida Defensive Tackle Marcus Thomas is full of controversy. Our second Florida Gator selected, Thomas is infamous for being kicked off the team in 2006 following a second positive test for marijuana and an unauthorized road trip to Jacksonville (his hometown). Athletically, he has the measurables and production of a first rounder, potentially about Amobi Okoye. But his off-field issues merited him a Day 2 selection to the Denver Broncos.
Ht: 6-3 Wt: 314
Pos: DT
Class: Senior
40-Time: 4.97
Sacks (2006): 4*
*In 5 Games
On Marcus Thomas:
After 5 months out of football, his workout disappointed when he ran a forty time of over 5.2. He worked out again a few weeks later, posting an impressive (and possibly career-saving) sub-5.0 time.
Thomas' issues off the field are well documented, as is his disdain for authority (Gator Coach Urban Meyer in particular). Rumor has it that the unauthorized road trip he took to Jacksonville, FL was specifically disapproved by Meyer, and that Thomas went anyway. New Broncos Assistant Coach/Defense Jim Bates will have no tolerance for that kind of player, and Thomas' ability to make the team could be based solely on that.
These issues aside, Thomas is a phenomenal player on the field. He posted 4 sacks in the 5 games before the suspension (and remember, he is a DT not a DE pass rusher). He played at below 300 lbs. but would likely stay at his current 315 lb. range because Bates likes big space-eating Defensive Tackles. His upside is huge, but at the great cost of his downside (off-field incidents). If he is able to keep himself together, he could have the biggest impact of all our draftees in 2007 and beyond.
The Broncos gave up a lot to draft Thomas, moving up from the 6th round to the 4th. We used our 2008 3rd rounder and our 6th and 7th this year to pick him with the 22nd selection in the 4th round. I don't get the math, and it seems the Vikings robbed us blind, but Shanahan must have seen enough in this guy to say those picks were worth it, regardless of where he was actually drafted. In Shanny We Trust, eh?
That's the last pick the Broncos have in the 2007 NFL Draft. I'll post a recap either later today or tomorrow.